This post is what I'm going to call a triple whammy. A project, a giveaway winner & a blog hop. Say what?! Remember our ottoman that we fixed up to be our coffee table? Well, we decided he was much too tall so he got promoted to bench for our dining room table. So that meant we needed a new coffee table. The husband and I had a little adventure to Salvation Army where we discovered this guy.
He was originally $20
with 75% off. That's right, we rescued him for a whole $5.
So let's skip the boring parts of sanding, priming and painting.. let's be honest, you just want to see the before and after pictures. So let's give the people what they want.
Paint Color: Behr Disney Underwater Wonders
Side Note: We are thinking about painting our couch (Gasp, yes, I said paint). I have seen some tutorials on it. Just wanted to see if any of you have done it and get some feedback on it. Some dos, don'ts or are you crazy!?
I won't leave you without a little foreshadowing of one of our next projects. It involves this
mess
corner or better known as Cooper's corner
.
a Rafflecopter giveaway
Now what you all have been waiting for..
Sunday Social.
How to participate:
3. Link up your
blog's home page
-- not a specific link or you will be deleted!
4. Visit at least 2 other blogs and make some friends!
5. Let your friends know by posting this button. The more, the merrier!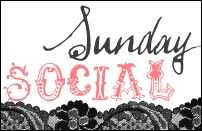 Let's get social!