1. Please follow the Featured blogger.
2. Link up your blog's homepage.
3. Check out some other awesome blogs that linked up.
4. Have fun & get social!
I am thrilled that Kim gave me the opportunity to get to know all of you today! So, by all means...link up and be social with me. :) Hi, my name is Tonya and I blog over at The Assignment. I am a newer blogger. Blessed Momma of an only. Lucky Wife. Diet Coke Addict. Special Education Teacher. Unapologetic Cat Lover. Aspiring World Traveler. Wannabe photographer. I love social media and celebrity watching. Most recently I am calling myself a Monkee. I blog about my trials being a working momma, my need to travel the world, and my journey to find joy.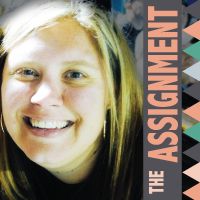 5 Silly Things About Me:

1. I hate roller coasters. I am terrified of heights and will avoid amusement parks at all costs.
2. I am a total sucker for a good accent.
3. I am obsessed with office supplies. I love a good pen and planner.
4. I would secretly love to live abroad. Anywhere. (refer back to #2)
5. I really, really wish I had a green thumb but I can't keep anything alive. Ever.
Make sure to stop by Tonya's blog and say hi!